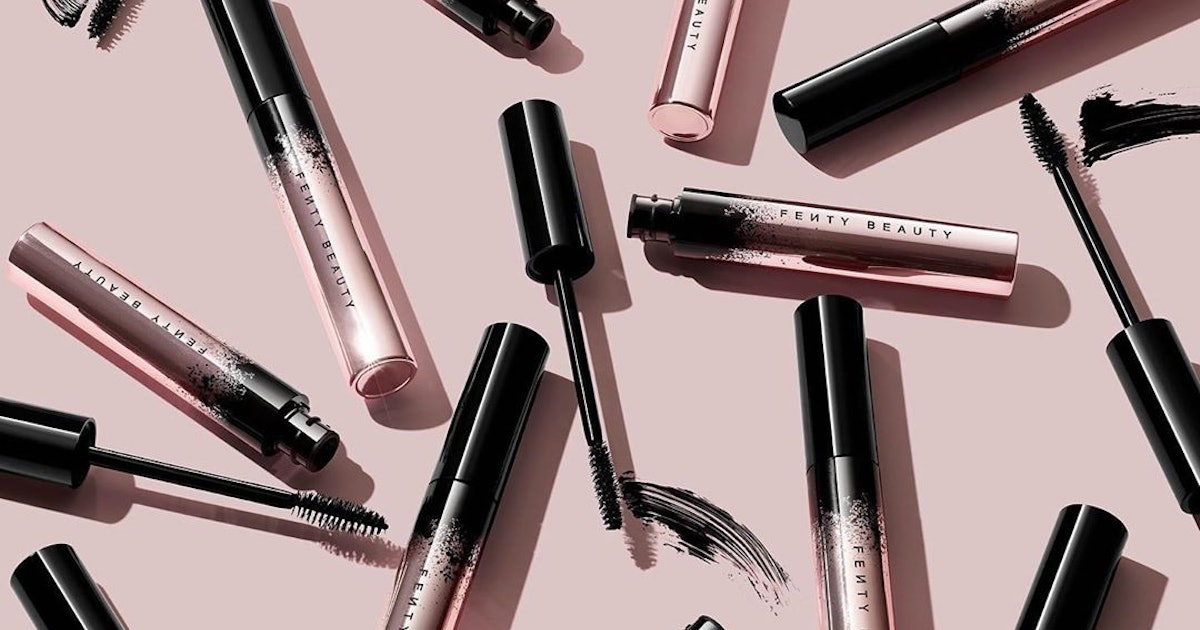 At the start of a new year, just about everything is surrounded by a feeling of freshness. Everyone has turned over a new leaf, in the hopes that 2020 will be the best, brightest year yet. But even just a few days into January, that shiny optimism and (admittedly naive) belief that everything old has become new again surely starts to wear off as life returns to its usual pace. Well, with some notable exceptions: All the new January 2020 makeup products arriving on shelves.
While you and all your friends have made commitments to constructive habits and healthy self-improvement goals in the new year, all your favorite beauty brands have been gearing up to make 2020 their best turn around the sun, too. And naturally, that means no shortage of fresh, innovative products to revolutionize routines and upgrade beauty lovers' lives (and makeup shelves). Anything to help you reach your "new year, new you" goals, right?
And January's new arrivals are a particularly strong showing. There's something for nearly every type of makeup lover, even those maximalists who are sure they've tried everything under the sun. A completely new and unexpected category from fan-fave lip product brand, Bite Beauty, yet another alluring expansion on Charlotte Tilbury's iconic Pillow Talk range, and Fenty Beauty's first-ever mascara — they're all appearing at beauty retailers this month, to help you kick off 2020 on a very glam note.
Chase the appealing aura of a completely clean slate and keep scrolling for all the new makeup products to upgrade your routine, below.
Hourglass' New Full-Coverage Concealer
Need a heavy-hitting concealer that feels nearly imperceptible on your face? Hourglass' new launch could be the one for you. It's a weightless, light-reflecting, full-coverage liquid concealer that's meant to blur the look of pores and diminish fine lines — resulting in skin that looks airbrushed to perfection. Scoop it up in 22 shades at Sephora starting Jan. 10.
Stila's High-Shine Liquid Lip Lacquer
Stila's newest high-shine liquid lip lacquer hit stores (including Ulta) starting Jan. 5, so you can grab all 14 of the intensely pigmented shades during your next shopping trip. The secret to the high-impact color? Ultra-glossy clear lacquer, which combines with the vivid pigments upon application. Argan oil makes the Lip Vinyl super comfortable.
A New Pillow Talk Palette from Charlotte Tilbury
Charlotte Tilbury's world of Pillow Talk seems to keep expanding — and nobody's complaining. An all new Instant Eye palette inspired by the now-iconic rosy pink shade launched on the brand's site Jan. 9, giving fans 12 shades (and 4 easy-to-create looks) at once.
Urban Decay's Latest Setting Spray
Fans of Urban Decay's best-selling All Nighter setting spray will be pleased to know it's got a brand-new sister: Ultra Matte. The superfine mist locks makeup in place for up to 16 hours and provides a shine-free finish. Want a really matte look? Apply before and after makeup application to keep any shine from sneaking past. It's up for grabs now on the brand's site.
Anastasia Beverly Hill's Newest Palette Collab
Amrezy is back for a third collaboration with Anastasia Beverly Hills, with an all-new eyeshadow palette filled with 16 never-before-seen shades that the fan-fave makeup artist herself can't live without. The palette even includes a totally fresh shadow formula: pressed glitter pigment that delivers maximum shimmer. Shop it starting Jan. 14.
Fenty Beauty's First Mascara
You'll be able to shop Fenty Beauty's first ever mascara on Jan. 16 — and considering its multi-benefit formula is designed to lift, curl, volumize, and lengthen lashes, it sounds like a total must-have. The mascara features a dual-sided brush, that's full and arched on one side for building major volume, and flat on the other side to define and separate each lash.
Full-Coverage Nude Lipsticks From Kaja
Kaja's focusing on full, pigmented color payoff in the new year with its latest launch, the Air Heart Lightweight Lipstick. It's formulated to feel weightless on lips despite the rich, opaque color, and is infused with rose extract for soothing wear. Kaja introduces the lipstick in seven nude hues, in a heart-shaped bullet that's as helpful as it is cute (use the pointed end to line lips before filling them in). Sephora will stock the lipsticks starting Jan. 24.
NYX Cosmetics' New $9 Concealer
The latest addition to NYX Cosmetic's Born To Glow complexion range is a creamy, lightweight concealer that comes in 24 inclusive shades. Thanks to the micropearl-infused formula, it'll brighten skin as it diminishes the appearance of blemishes and hyperpigmentation — and its puff blender applicator means effortless, mess free application. It's available now on the brand's site and retailers like Ulta.
L'Oréal's First-Ever Matte Lip Crayon
A first for the brand, this matte lip crayon (available in 18 full-coverage, high-impact shades) features long-lasting wear that's smudge-proof and stays in place. Plus, the crayon application ensures it goes on effortlessly with precision.
Bite Beauty's Complexion Category Debut
Jan. 10 marks the complexion category debut for Bite Beauty, with the introduction of three products for smooth, even skin. The Changemaker Supercharged Micellar Foundation mimics skins' natural texture for seamless application and offers medium, long-lasting coverage in 32 creamy shades. It's available alongside the Changemaker Skin-Optimizing Primer and Changemaker Flexible Coverage Pressed Powder.
A New Blush Range from Kat Von D
Inspired by flowers and a love that never fades, Kat Von D's new Everlasting blush is designed to deliver pigmented, long-lasting color that promises not to fade. It's available in six floral shades, from Honeysuckle to Peony to Rosebud, and features a soft matte finish that seamlessly blends with skin. It's up for grabs beginning Jan. 10 at Kat Von D and Sephora.
Expansions on e.l.f.'s Best-Selling Primer
Drugstore beauty brand e.l.f. calls it's Poreless Putty Primer the "primer that broke the internet" because it's almost always sold out. So, the brand did the only sensible thing and expanded on it by introducing two new formulations: Luminous and Matte. Available now, they provide the same makeup gripping, skin-loving hydration and balancing goodness, in new finishes for your ideal look.
Lune + Aster's Versatile Face & Eye Palette
Want to streamline your daily makeup essentials in one sleek palette? Snag Lune+Aster's newest launch, which includes wearable nudes for face and eyes in the form of a matte bronzer, subtle highlighter, and two satin-finish eyeshadows in a peachy nude and deep bronze. It's available starting Jan. 15 at Bluemercury.
A Limited-Release Lunar New Year Edition of Guerlain's Meteorites Illuminating Pearls
Guerlain's delicate little pearl-shaped illuminating powders have been a luxe mainstay for many years — but you've never seen them dressed up like this before. For a limited time, grab the complexion-perfecting illuminating product in Lunar New Year packaging that's impossible to ignore on your vanity.
An $8 Gel-Cream Blush By Maybelline
Looking for a drugstore dupe of Glossier's fan-fave Cloud Paint? Maybelline's new Cheek Heat could be it. The gel-cream, water-based formula blends into skin seamlessly for a sheer, buildable, and naturally-dewy finish, plus it comes in six wearable shades. It's up for grabs now at Ulta for just $8 a pop.
Estee Lauder's Super-Modern Act IV Collection
Estee Lauder's great-granddaughter, Danielle Lauder, collaborated with the iconic beauty brand on Act IV, a limited-edition range of makeup essentials that landed on Jan. 5. The glam rose gold and marble-packaged line includes the warm, shimmery Spotlight Highlighter, plus lip products, a multi-use palette, brushes, and more.
A Lip Balm That Changes Color To Suit Your Complexion
Milani recently released a rose-enriched line to its drugstore-priced range, including an adaptive lip balm that changes colors while protecting your pout from environmental stressors. Your natural pH determines the sheer shade the lip balm transforms into, while soothing rose oil, hydrating coconut oil, and vitamin E keep lips soft and smooth. Scoop it up now at your local drugstores or online.
ColourPop's Cool Mint Drop
ColourPop's at it again with its ultra-cohesive color-coordinated launches — and this time it's all about icy cool mint green. The full Mint To Be collection is up for grabs now on the brand's website, and includes a fresh mint green eyeshadow palette, two new shades of Glittery Obsessed gel, two Super Shock Shadows, two creme gel eyeliners, a minty creme gel eye colour pot, and a matcha-infused face milk.
A Solo Travel-Inspired Line By essie
Essie decided to kick 2020 off with a super-bright note, with its wanderlust-inspired Flying Solo range that's bound to make you book a trip somewhere exciting. The collection includes nine new polish shades that mimic the colors of a setting sky, from peachy pink and golden yellow to deep teal and violet-tinged blue. The collection dropped at the start of January and can be found at Target, Ulta, and essie's website.
Sephora's Lash Collab With House Of Lashes
Cruelty-free, 100 percent synthetic lash brand House of Lashes teamed up with Sephora to start the new year off with good vibes and great lashes. The Crystal Collection launched at the beauty retailer on Jan. 3 and includes three different false lash sets inspired by positive energy-emitting Rose Quartz, Aquamarine, and Amethyst, helping you set your intentions for the day as you get your lashes looking good.