When it comes to red carpet beauty looks, it seems everyone is after that effortless, glamorous glow. However, if you ask any pro makeup artist, they'll tell you to truly achieve such radiance, you have to look beyond a great highlighter or illuminating product. That said, for Annabelle Wallis' makeup at the 77th Annual Golden Globes Awards, makeup artist Monika Blunder pulled out all the stops to give the actor a fresh dewy complexion that lasted well after the final award was presented.
Referencing Wallis' classic black off-the-shoulder Zuhair Murad princess gown, the makeup artist (who represented Dior Beauty at The Golden Globes) explains she wanted to take an alternative route from the trending red-lipped one many celebrities were taking on the evening of Jan. 5. "When I saw the dress I immediately thought 'cool-girl vibes, effortless chic, not overdone, or trying too hard," says Blunder in an exclusive emailed interview with The Zoe Report. Instead of Old Hollywood glamour, she went for a more laid-back, fresh-faced approach — and totally nailed it.
To achieve all of the effects listed above, the makeup expert said she relied primarily on "skin care, foundation, and the concealers because I wanted her skin to look flawless and glowy — but also last all night long without getting cakey." Concealers? Yes, you heard right. Blunder used three Dior Beauty concealers to "give skin dimension without being harsh."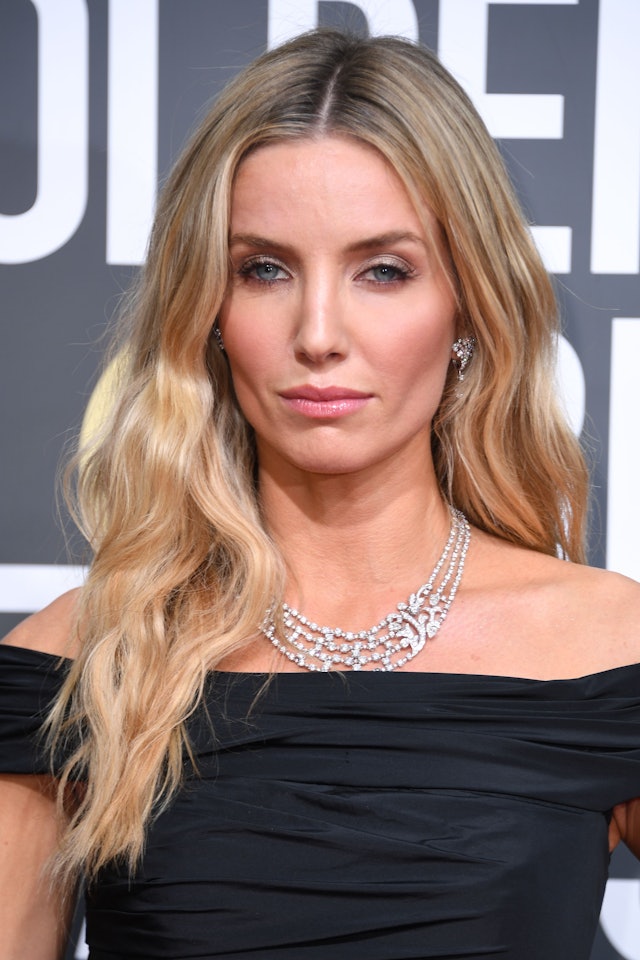 The magic of this makeup look is that it's as versatile as it is easy to recreate. Ahead, Blunder's step-by-step tutorial for Wallis' Golden Globes glow — and a few genius pro tips to try ASAP.
Step 1: "First, I prepped the skin with the new Dior Capture Totale C.E.L.L Energy Super Potent Serum, Capture Totale C.E.L.L. Energy Eye Cream, and Capture Totale C.E.L.L. Energy Cream to make her skin glow underneath the makeup."
Step 2: "I then used a combo of matte and glow foundations (Dior Forever and Forever Skin Glow) to create the perfect shade match for her face so it's glowy, but still has longevity for all-night wear."
Step 3: "Instead of using an eye primer, I used a lighter shade of concealer on the upper and lower lid and one that matched her skin in the center of the face. I then used a darker shade of concealer to contour her cheekbones, and around her forehead. I set the makeup with the Diorskin Forever and Ever Control loose powder in the center of the face and on the eyelids."
Step 4: "I didn't want a hard line or anything too harsh, so I used the Waterproof Crayon Eyeliner in the brown #594 shade along the waterline to create a smoky eye that wasn't too heavy. The brown brought out the blue in her eyes. I then used the Dior Backstage shadow palette in Cool Neutrals. I applied a matte plum taupe to the socket/crease, shimmery lilac on the lid, and, on the bottom lash line, a darker shimmery purple to extend the soft smoky look."
Step 5: "I love how the Diorshow Maximizer 3D Lash Primer added thickness to the lashes. Then, I added a few individual short and medium lashes and topped it all off with the famous Diorshow Mascara."
Step 6: I used the Diorskin Nude Luminizer Glow Vibes in #001 on her cheekbones and Cupid's bow to catch the light and emphasize her already amazing cheek structure. The Rouge Blush in #028 was brushed on the apples of her cheeks."
Step 7: "For the lip, I wanted to emphasize the pout with the Rouge Dior Contour liner in #434 along the lip edges. I used pinky nude in the Rouge Dior #060 Premiere and finished with the new Dior Lip Glow Oil in #001."