This year marks the 5th National Love Your Red Hair Day (November 5). Launched by the co-founders of HowToBeARedhead.com (red-haired sisters Stephanie and Adrienne Vendetti), the national day is "all about celebrating your gorgeous red hair," the official Love Your Red Hairy Day website states, whether you're a natural redhead or redhead by choice.
"We wanted to create a national recognized day of the year that empowered redheads to LOVE their hair. But, most of all, it's a reminder for women everywhere, redhead or not, to love their unique qualities," Stephanie Vendetti says on the website.
Hair Products for Redheads
Made with a unique "S-Complex and Slip Mix" including Argan oil, Bumble and bumble's Color Gloss in Universal Red helps soften your hair and increase shine. It is designed to revive your highlights and lowlights in one go and give you a shine that lasts up to 3 weeks.
The gloss is applied to your dry hair and rinsed after 20 minutes before following it up with your regular shampoo and conditioner wash routine, the company's website advises. Available for $30 on Amazon (a reduced price from $34 on the Bumble and bumble website).
John Frieda's Red Boosting Shampoo and Conditioner from its Radiant Red collection is designed to enhance and preserve the red tones in your hair for a "bright, vibrant, head-turning color," the brand's official website describes. Made from pomegranate extract and vitamin E, the shampoo helps create a softer and smoother hair texture and is safe for daily use and on natural or color-treated hair. Both the shampoo and conditioner (245 milliliters) are currently available for $8.99 (reduced from $11.99) on Amazon.
Pureology's Red Reviving Red Shamp'Oil is a sulfate-free product which claims to help maintain vibrancy in your hair even after 30 washes, made with jaljala oil for color protection and nourishment, an antifade complex to maintain vibrancy while encapsulated lycopene fights oxidation and color fade, the company website claims.
Use it along with Pureology's Reviving Reviving Red Reflective Condition, which also helps to detangle and strengthen each hair fiber. Both products feature a blend of bergamot, black currant, mandarin, rose, basil and musk to offer an aromatic experience. Both are available for $28.57 on Amazon (reduced from $30.50 and £32.50 on Pureology.com)
The Magic Root Cover Up in red from L'Oreal Paris is said to "conceal grays in seconds for flawless roots," according to the company's website. The ammonia and peroxide-free spray is made with a lightweight formula with no sticky residue and great for on-the-go coverage. Available for $7.89 at Target.
HowtobeaRedhead.com (H2BAR) also recommends using a color depositing shampoo, which "naturally deposits color in red hair without the use of permanent dyes," the website explains.
"[It is] great for natural reds who are experiencing natural fading and want to "up" their red," it adds.
Celeb Luxury's Gem Lites Colorwash is H2BAR's top pick for color depositing shampoos to boost and maintain your red color. Available for $35 in the red tones (Fire Opal, Ruby and Amber) on the Celeb Luxury website.
Hair Colorists for Redheads
Chelsey Pickthorn
The Pickthorn salon in the up-and-coming Bushwick area of Brooklyn in New York City (NYC) is owned by Chelsey Pickthorn, who specializes in red hair and is said to be a favorite colorist of Australian fashion model Abbey Lee Kershaw. Pickthorn was a former stylist at celebrity haunt Pita's in Orlando before she opened her own salon in NYC, Refinery 29 reports.
Pickthorn is said to specialize in rosy-pink and apricot shades, which "warm the face post-summer so it doesn't go sallow, and bring out [the] peaches and cream hues in the skin," Refinery 29 reports. Color treatments are available from $160 at Pickthorn.
Christopher Pierce
Described to be "a master of rich reds," Christopher Pierce of the Andy Lecompte Salon in Los Angeles was the stylist behind actress Christina Hendricks's Joan Holloway character in the Mad Men television series, Violet Grey reports.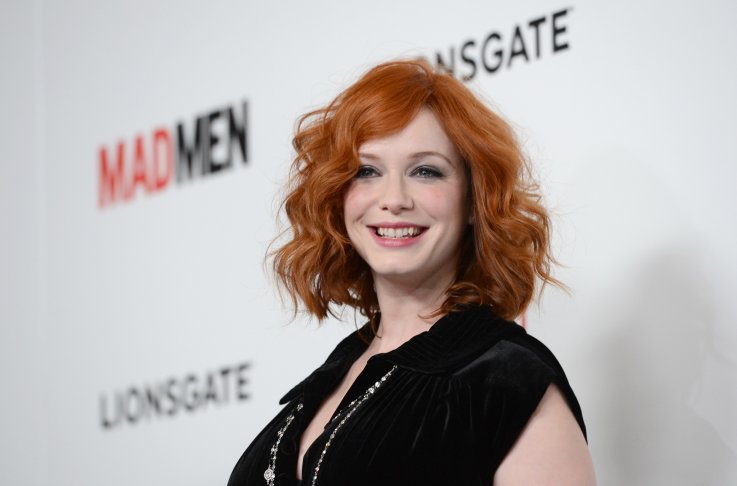 Color treatments are available from $150 at Andy Lecompte Salon.
Most of Marie Sigismondi from the Pierre Michel Salon in NYC–who has been specializing in color treatments at the Big Apple's top salons for more than 20 years–are said to be redheads, according to NYCitywoman.
With a background studying at The School of Visual Arts in NYC, Sigismondi is known for creating personalized colors for clients, "creating a variation of tones that can either be polished and natural or raw and bold," her official profile on the Pierre Michel Salon website describes. Color treatments are available from $135 at the Pierre Michel Salon.
Make-up for Redheads
Bag this bold Day-to-Night Lipstick Bundle from Redhead Revolution's new Color Revolution line for $27 (reduced from $32). The bundle is offered in two shade combinations: "The Cool Redhead bundle is designed for redheads with cool undertones and the Warm Redhead bundle is for those with warm undertones," according to the website.
Just For Redheads is offering a discount on bundle make-up purchases, where you get 10 percent off for any 2 items, 15 percent off for any 4 products and 20 percent off for any 6 purchased together. Items range from the Henna All Natural Hair Color dye (from $18.99), which includes a bonus applicator per order, to a Natural Lip Kit set ($34.99). Customers can also access a free Personal Fall Redhead Color Consultation by filling out your details at the website.
If you're unsure where to start on your red hair beauty journey, let H2BAR do the work for you by subscribing to the H2BAR Box, which provides the best "Redhead Friendly" products curated for and delivered to individuals on a monthly basis. Subscriptions are available for $20.48 per month, $58 for 3 months, $110 for 6 months and $204 per year.