The ponytail is one of the most versatile and popular hairstyles today. The look requires minimal styling, equipment or special techniques, and you can dress it up or down with ease. Even better, there's a ponytail – whether high, mid-height, low or on the side – that suits every face shape and hair texture. From the gym to date night and even your wedding, a ponytail can be the perfect hairstyle to make you look your best.
Ponytail Hairstyles
Short Ponytail
The classic ponytail is long and flowing, but short hair suits this style too. While you won't be able to do a high ponytail with short hair, a low pony will flatter your cut and give you a fresh look in seconds. Keep the ponytail very textured and undone for best results. It looks even better when teamed with a fringe, which creates a chic, French feel.
Long Ponytail
If you have long, thick hair, you're in luck: the classic ponytail is an effortless style for you! It's incredibly versatile because you can wear this style everywhere from the gym to a lunch meeting and for a night out. Whether you style it sleek or wavy, the long ponytail never goes out of style. To keep it looking its best, make sure you maintain your long locks with regular treatments and trims. For those who love this look but have finer or thinning hair, clip-in extensions are a great option to fake it.
Cute Ponytail
A short hair classic, the cute ponytail is sweet and sassy. It is a youthful, playful take on the hairstyle. While you can keep it simple, adding accessories will look extra cute. Think scrunchies, bows, ribbons or a brightly coloured scarf. You can also try colourful hair clips or decorative hair slides.
Easy Ponytail
It couldn't be more simple to upgrade your everyday ponytail. The first step is to cover the hair elastic around the base of the ponytail. Take a section of your hair and wrap it around the elastic, then secure it in place. While you could use a bobby pin, using a cute clip will give your simple ponytail some extra personality and make the hairstyle look more polished.
High Ponytail
The high ponytail hairstyle has been popular for decades because it's a sexy, confident look that also lifts and tightens your face. To nail this style, make sure your hair has some grit and texture to it; spritz in some dry shampoo if your hair is too clean and slippery. Don't worry about keeping your hair too sleek, either, as this type of ponytail is supposed to look tousled.
Medium Ponytail
Medium hair is usually around shoulder length, which means it's just long enough to turn into a stylish mid-height ponytail. If you're growing out your locks or have fine hair, it is an excellent option for making your mane seem thicker and longer. Keep this ponytail soft, wavy and romantic, as a sleek ponytail will only emphasise the length and fineness. Ask your stylist to give you long bangs, too, as this will create the illusion of more hair.
Low Ponytail
The low ponytail is a very chic hairstyle that's favourite with models. It has a cool '90s appeal and will suit you if your hair is naturally straight and fine. It's also a very professional hairstyle that is great for work or meetings. Oval and heart-shaped faces look great with this style. You can change it up by switching from a centre parting to a deep side part.
Side Ponytail
There's one trick to nailing the side ponytail: don't go too high. The hairstyle looks best when the ponytail starts at the top of your neck or mid-height. The easiest way to style a side ponytail is with loose waves and unstructured pieces that frame your face. Use sea salt sprayto give it texture and help the waves form. However, this look requires thick hair, so if yours is fine, a sleek side ponytail could be the way to go. Straighten and smooth down your hair with a gel or styling cream, then create a side parting and secure your ponytail on the opposite side.
Half Ponytail
The half ponytail – also known as the half-up, half-down style – is coming back into fashion. It is one of the most versatile hairstyles because it works on any hair length or texture. Only the top section ties into the ponytail, and you can choose how high or low you want it. The higher the ponytail section, the more volume you will create at the crown of your head, which makes a round face look longer. Meanwhile, the loose lower part of your hair creates a beautiful frame for your face.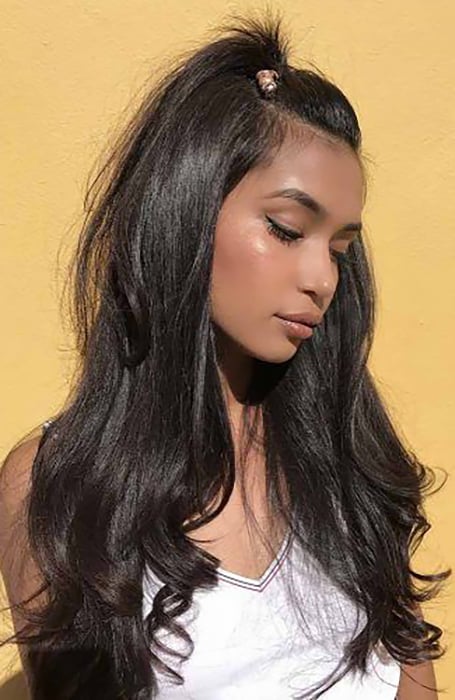 Braided Ponytail
If you have a little more time, combine your ponytail with a loose braid. Doing so gives your look a soft, romantic and summery feel. For these reasons, this is a great hairstyle for weekend brunch or a casual date night. This hairstyle is also very flattering on ombré or highlighted hair, as it will show off all the different tones. Braids require thick long hair, so clip-in hair extensions could be a good option if you're combining them with your ponytail.
Ponytail with Weave
Sewn-in weaves are not only great for protecting your natural hair, but they are also fantastic for creating a standout ponytail look. The sleek front, textured back version of the style creates a cool contrast that ensures all eyes will be on you. Glueing in a weave can damage your hair, so it's usually best to avoid it. Instead, have the bundles sewn in by your stylist. To create a bold ponytail, make sure you ask for more bundles of hair and body wave or deep wave, so the hair doesn't look thin or flat and is long enough to stand out.
Black Ponytail
Because it's such a simple hairstyle, some people can mistake a ponytail for being boring. However, this take on the classic is full of personality and is sure to turn heads. It combines the fresh, sporty feel of a high ponytail with the glamour of long, flowing curls. As a result, you can wear this style for day or night. It is a great way to show off your hair's natural texture, volume and bounce or to try out extensions.
Prom Ponytail
The ponytail is known for being a casual, everyday hairstyle. However, it can look fabulous for more formal events too. Go from day to night by adding plenty of volume to your hair – bigger is better when it comes to prom, after all! Tease the roots of your hair from underneath, so the top still looks smooth and elegant. Once you've secured your ponytail, use tongs to create soft waves. Finally, twist a small section of hair around the elastic, so your ponytail looks seamless. You need long, thick hair to create this look so opt for real human hair extensions if you don't have this hair type.
RELATED: The Most Stunning Prom Hairstyles for All Hair Lenghts
Braided Ponytail for Black Hair
A striking and protective style for Afro-textured hair is the braided ponytail. It combines braiding techniques with a long rope of hair, which you can either braid or leave loose. Cornrows and Fulani braids look amazing when paired with a chunky fishtail braid ponytail. To get a thicker ponytail, consider a weave or hair extensions.
Two Ponytails
What's cuter than one ponytail? Two! This look can be tricky to get right because it can make you look like a schoolgirl. To turn it into a fun and fabulous night out hairstyle, make sure you work plenty of volume into your locks and add body and movement with beachy waves. Attention to detail is also crucial: make sure you disguise the hair elastic with a section of your hair, keep the ponytails even, and leave some strands of hair out to frame your face. This hairstyle looks fun and flirty when teamed with a smokey eye and a bold brow.
Natural Ponytail
Natural curls, kinks and coils look fantastic when styled into a high ponytail. However, because natural hair has so much volume and bounce, the hair won't 'fall' the way straight hair does. Instead, the natural hair ponytail ends up looking like an up 'do. You can take this style to the next level by wrapping a scarf around the base of the ponytail.