Are you sick of your thin hair falling flat, looking limp and being difficult? Chances are, you're just choosing the wrong cuts and styles for your hair type. The right cut and style can make an incredible difference to your look. So, if you want your delicate locks to appear full of life, you need to stop focusing on what you like and start also considering what suits your strands. Luckily, there are plenty of beautiful looks to suit the needs of your fine mane, and we've rounded them up right here. From short bobs through to flowing waves, here are the best hairstyles for thin hair.
Short Hairstyles for Thin Hair
Naturally Textured Style
To create a gorgeous naturally textured style on short and thin hair, all you need to do is wash, rough blow-dry, spritz with sea salt spray and scrunch.
Short Messy Spikes
If you rock a pixie cut, short messy spikes are a style worth trying. Not only will they add a dose of edgy attitude to your look, but they'll also give it a significant volume boost.
Swept-Back Hairstyle
A swept-back hairstyle looks fashionable and keeps thin hair from sitting flat. Best of all, it's also seriously easy to create on short strands.
Straight and Smooth
A gorgeous straight and smooth style is easy to achieve with thin hair. Just blow-dry with a round brush and run a straightener through for a stylishly sleek look.
Side Part with Texture
If a flat middle part is leaving your locks looking a little lacklustre, opt for a side part with texture instead.
Pinned Updo Style
While it may not be possible to create an intricate bun with short and thin hair, it is possible to achieve a gorgeous pinned updo style. The trick is to tease the middle to add volume and structure.
Pompadour Style for Thin Hair
To nail the perfect pompadour style for thin hair, be sure to use products that provide hold without weighing strands down and opt for a slightly dishevelled finish.
Short Messy Curls
Short messy curls look seriously cute and youthful on thin hair. Try the look in summer for a fun, carefree style that's perfect for both the beach and the bar.
Straight with Parted Bangs
To give your chic bob a sexy weekend twist, wear it straight with parted bangs. Then, before you walk out the door, flip your head upside down to add volume and a relaxed finish.
Short Wispy Waves
If you've got a layered crop, consider adding some texture to your look with a few wispy waves.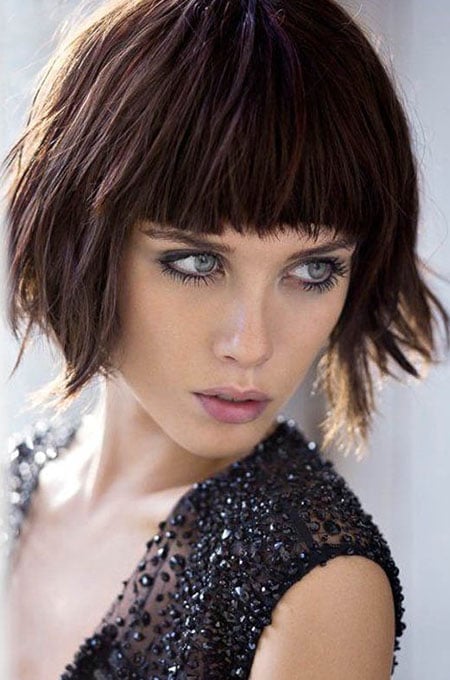 ADVERTISEMENT
Forward Swept Style
For ladies rocking a pixie cut with a longer length on top, a forward swept style can make an exciting choice. The look can also disguise any thin sections of hair at the front.
Thin Tousled Bob
By adding tousled waves to your thin bob, you'll instantly boost its volume. Just remember, the messier and less defined your waves are, the thicker they'll appear. So, don't stress about making the look neat or polished.
Middle Part with Ear Tuck
It may be simple, but a middle part with an ear tuck is a chic style. As well as showing off your face, this look collects your hair behind your ears to make it appear thicker.
Side-Swept Bob
To give your short haircut more shape, opt for side-swept bob hairstyle. The look will concentrate your hair on one side of your head to make it appear thicker and more voluminous.
Wet-Look Half-Up
For those who want to utilise the thinness of their short locks instead of disguising it, a wet-look half-up hairstyle makes a fantastic choice.
Medium Length Hairstyles for Thin Hair
Lob with Tousled Waves
A lob with tousled waves is the ultimate cool girl hairstyle and a seriously flattering look for ladies with thin hair.
Not-So-Straight Style for Thin Hair
Thin locks and a dead straight hairstyle rarely go well together. As such, opting for a not-so-straight style is an excellent alternative for those with fine hair.
Low Bun Hairstyle
Stylishly casual, a low bun hairstyle makes the perfect option for lazy days and casual weekend outings.
Straight and Sleek Long Bob
Whether you're off to work or a formal function, a straight and sleek long bob can be an excellent style choice. When creating the look, just remember to use a heat protectant spray as thin hair can be easily damaged.
Side Part Style
For a simple yet stylish look, try wearing your mid-length hair with a side part. The relaxed look will instantly give you that French "It" girl aesthetic.
Messy Updo Style
To achieve a messy updo style on thin, mid-length hair, start by shampooing your hair twice and skipping the conditioner. Then, blow-dry your hair upside down to boost volume before pinning your hair up and back. If needed, tease your hair for extra thickness.
Middle Part with Waves
If you like to rock your mid-length hair with a middle part, consider adding some loose waves to your look for an injection of texture that will keep your hair from looking flat.
Half-Bun Style for Thin Hair
For those looking to achieve a cute and casual look with their thin hair, a half-bun style makes an excellent option. You can even add a scrunchie for a playful retro twist.
Fishtail Side Braid
Don't rule out braids just because your hair is thin and shoulder-length. A fishtail side braid (or two) is easy to create and will lend your look a fashionable flair.
Low Ponytail Hairstyle
A low ponytail hairstyle makes a chic and simple choice for fine, medium length locks. The style is also perfect for showing off blunt ends, which can help thin ponytails appear significantly thicker.
Mid-Length Messy Waves
Mid-length messy waves are perfect for ladies with thin hair who have minimal time to spend styling their hair each morning.
Lob with Top Knot
For an on-trend look that will work for your thin hair, try a lob with top knot style. While the lob cut will give your hair bounce, the top knot will add the appearance of volume on top.