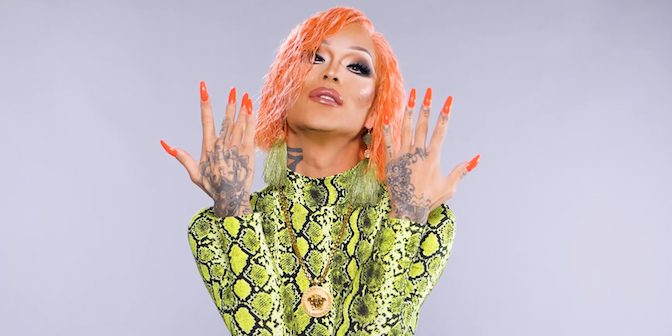 You know what day it is, y'all! It's Wednesday and that means another episode of watching one of our fave drag stars doing one of the maaany things they do best—beat that face till it's as glam as it can be. On this freakin' frigid day, at least here in New York City, Kimora Blac has blessed us with a snatched, warm, bronzy look that'll definitely bring in the heat during these upcoming cold months. SO! Get yourself cozy in front of your vanity, pull out your makeup collection, and start recreating this lewk!
If you know what's good for you (and your in-progress makeup masterpiece), you know you should always start with brows. Don't ask questions, you JUST DO. And our good sis Kimora OBVVV knows best and did just that. She takes her time with them—making sure they're lifelike, sharp, and shaped.
She then moves forward to foundation, which she applies first using a makeup brush and then a beauty sponge for that ultimately seamless look. Oh, and for that flawless touch? She continues to highlight and conceal her T-zone area to really bring brightness to her complexion. Then she sets it all! Because you can Never! Forget! To! Set!
And now for the eyes. The star of the show, I must say. Kimora starts with a brown-tone shadow as her transition, then uses darker shadows to build the smokey eye. She applies it to her under eyes too (and a white liquid liner!) to bring a sultry and widening effect. And she uses black liquid liner not only at the lids of her eyes but also under the eyes…and it's PURE GENIUS.
Wrapping it up, she applies a light coat of mascara, throws on her falsies, contours till she can't no more, highlights her cheekbones so homegirl is SHININ', and tops it all off with a gorgeous nude lip. Ugh, and I can't NOT mention the orange bob-cut wig. A KWEEN.